The Samba Parade became too big for improvisations. Until the mid-eighties bleachers were assembled and disassembled every year on Ave. Presidente Vargas. Samba Schools and the audience deserved a more professional location to perform.
Governor Leonel Brizola believed in this dream, and in October 1983 he hired no one less than Niemeyer, Brazil's most prominent architect. Niemeyer more than lived up to the challenge of designing and building the Sambódromo within 110 days. "We built the capital Brasilia in four years. We certainly can build the Sambódromo in four months."
On March 2, 1984 the Sambódromo was inaugurated. Marques de Sapucaí was the street chosen by Vice-Governor Darcy Ribeiro. It holds historical ties with samba: Praça Onze is recognized as the birthplace of the most famous Brazilian musical style.
The Original Sambódromo
The structure is officially named Passarela do Samba Darcy Ribeiro, and it is the permanent home of the Samba Parade. Mangueira was the champion in 1984, in case you are wondering. The Sambódromo consists of several independent concrete structures along both sides of Ave. Marques de Sapucai.
The pavement of the street itself is painted white a few days before Carnival, and turned samba runway (or passarela). It ends at the Apotheosis Square, crowned by a large M arch. This is the dispersion, or exit area. Cranes to remove destaques from top of floats. Time to rehydrate!
During the school year, parts of this structure are used as classrooms by public schools. The Square is often stage for shows, and major bands have already performed here. When Carnival magic takes over, the Sambódromo is the setting to the greatest show on earth.
The Aerodrome is divided in sectors (see photo map), and each sector has different kinds of seats. Catered boxes are where you find famous international stars, socialites, soccer players, politicians, celebrities and their chasers. Material for the tabloids and gossip columns to talk about.
The Renovated Sambódromo
Oscar Niemeyer's originally had to be adapted to accommodate the old Brahma Brewery. The city reached an agreement with the owners of the factory, that was listed. Eventually it was put down to make place for the new and improved version of the Sambódromo.
Now the odd and even sides mirror each other. Acoustics have improved dramatically, and there are more seats. The new structure was launched with the presence of Oscar Niemeyer, aged 104! The event happened just a few days before Carnaval. The samba runway was also blessed by baianas for good luck. Our culture and traditions.
There have been many changes. Sector 4, once a recessed ugly duckling, now has been renamed Sector 10, and has a top view to the runway. 12,500 new seats were added altogether. The boxes on the even side have an open balcony, that was a big hit. So was the promenade of special chairs on Sector 10.
The only bleachers with numbered seats are still at Sector 9. This area is reserved for tourists, and prices are higher. Tickets should only be available through travel agencies, and offered together with transportation, a guide, and some support at the Sambódromo. ABAV is in charge of distribution.
Sambódromo Map after the Face-lift
Liesa, the League of Samba Schools published a very handy map with the new disposition of sectors and how they can be reached by subway. They say that there are a total of 72,518 seats now! We will try to help you understand which is the right one for you. We are not talking prices here, this is discussed in detail a bit later.
Choosing the Best Sector
With the renovations all special sectors are wonderful choices. The lower the number, the closer to the starting point. From Sectors 2 and 3 you also have a partial view to the concentration. This is sort of exciting, and you are also closer to the fireworks that signal the beginning of each parade.
Sectors 5 and 7 and their even counterparts Sectors 4 and 6 are the most centrally located. It may take as long as 15-20 minutes for the first members of the Samba School to reach you. Once they do, you will see a tapestry of moving art. That's an 180 degree view! Prices are only a bit higher.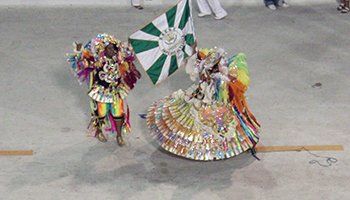 Sector 9 is on a class of its own, because seats are numbered. Tickets at this sector are the most expensive, and have the privilege of being close to the percussion band. The only disadvantage is the clueless grumpy tourists may ask you to sit down (see etiquette above).
Sector 11 shares with Sector 9 an area where the percussion band retreats while the school passes by. The name of this niche is Recuo da Bateria. Whenever passistas hear the band from up close their energies are recharged, and they always perform their best. Sectors 8 and 10 also share the benefits. This is a live 3-D show!
If you are on a budget...
There are low-priced tickets, and you can alternatively watch the schools line up at the Concentration, instead. One of the sides is fenced in. At the other there are bars, curious people and families helping components dress up. Bring a discreet camera, mingle with locals.
You can later stretch the night at the Terreirão do Samba, with a number of live music shows that are loads of fun. Provided you actually want to go inside, with the new layout of the Sambódromo there are no bad seats. It's a question of taste and budget. Do not support abusive prices.
Sector 1 is right next to the entrance and the Concentration. It has much lower-priced tickets, with a face value of about $10 BRL. Some are distributed among the communities where samba schools come from. Others are offered for sale a couple of weeks before Carnaval.
Sectors 12 and 13, which are around the dispersion area, also have lower-priced tickets. Spectators enjoy schools leaving the Sambódromo, including the destaques, on the uppermost position of the floats. Before you invest on tickets to any sector check out what the face values are.
Ground-level - Frisas and Cadeiras de Pista
When you want to be as close as it gets to the Samba Runway, your first choice are the Frisas. These are ground floor boxes which accommodate six people each. There are chairs for each person, a table, and you have access to a snack bar and rest rooms inside your sector.
Although seats within a frisa are numbered, if you are sharing yours with strangers try to make friends. People won't mind making room for you to take that special photo, trade places, you are enjoying a party together. Or you can be a pain, arrive late and insist everyone changes their seat arrangement.
There are 4 rows of frisas, and Row A is the closet to the runway. It is priced higher, yet you get to see - and be seen by components. This exchange of energy is wonderful. People from other rows may occasionally request to enter just for one photo. It is courteous to say yes.
The view is never 100% clear, many people with Acesso Livre. They may be fiscais de pista working or just someone with connections. Sometimes they stop right in front of you without even noticing. Again you can politely ask them to step just a bit. Being friendly is part of the Sambódromo culture.
Cadeiras individuais, or Individual chairs are also at ground level. They are not available at all sectors, but as the name says you have actual chairs to sit on. At the bleacher seats are in concrete. There are also sitting areas reserved to spectators with special needs. All Samba Schools have participants on wheelchairs, too!
The only disadvantage of ground-level seats is that some floats are big and tall. There may be someone in a fabulous costume right on top. You see individuals, and less of the group. For the full experience you may want to go one night at ground level and another from above.
Catered Boxes - Camarotes
I don't want to shatter your dreams, unless you are close friends chances are you will not stay in the same box as Giselle Bündchen and other celebrities. When they are hired as VIP guests they usually do not stay too long. And someone will protect them from your asking for a selfie.
When they love Carnaval it's a different story. Many actors, socialites, and local celebrities are Carnaval fans. They march with samba schools, sometimes even in the percussion band. Better boxes now include seats in frisas, camarotes and bleachers, so guests can circulate and be fabulous.
A mezzanine box is a module that accommodates 12 persons. They are sold bare and there are companies specialized in turning them into a comfortable living room for you to enjoy the party with your friends. Or strangers, wholesalers offer individual tickets.
These modules can be added indefinitely, and sometimes they are, too! Unless you are advised otherwise, it is an all-inclusive deal. Dinner, appetizers, drinks, and prices are high. Now there are also boxes with special attractions such as a favorite DJ to play in-between parades. Shop around before making any final commitments.
About Bleacher Seats - Arquibancadas
We saved the most popular sets for last. Best prices, great elevated view, and a chance to mingle with locals in their favorite turf. It sounds dreamy and in many ways it is. You get a full view of the Parade including all floats, the choreographies... With a good zoom you can get close-up photos, too.
Do not be surprised not to find actual chairs at the bleachers. They are more like bleacher stands, really. The photo gives a pretty good idea. This is Sector 9, the only one with numbered seats. As many people are tourists coming in large groups from ships, they may all leave right in the middle of the parade.
If you are going to the other sectores, there's not much point in arriving very early hoping to get one of the front rows. There are people willing to camp outside to stay on the front row, and they save seats to family... Be Carioca and make friends with your neighbors, as they may save your seat when you go for a break.
Do not complain if the person in front of you stands up, starts waving arms or a flag in front of your camera. Let them enjoy their moment, seriously. If you're not happy, find some other seat without antagonizing other people who are just having a good time.
We have already mentioned that there aren't any actual seats at the arquibancadas. You may want to bring along a disposable cushion. Again if you're going to Sector 9 you should receive one. Either from your travel agency, or from ABAV.
Now a last piece of information: there are no escalators or elevators. You have to face the steps. On your way up and down, and to find the right row for you. If you are not in shape you may get a bit tired. There is a snack bar and restrooms once you arrive at the entrance level. You do not have to keep going up and down, yet there's a promenade.
Exploring the Promenade
There are refreshment stands and rest rooms in all sectors. They are kept clean under the constant supervision of janitors. If you are on the odd side, you also have access to a promenade within the Sambodromo, right behind the bleachers.
It is lined up with snack bars, ice-cream stands, shops with souvenirs, and more rest rooms The largest food court is behind Sector 11. You can walk all the way from Sectors 3 to 11, and see the entrance to the luxury boxes with stars and celebrities. In most cases if they are not in a rush they may stop for a photo. If they are busy, don't insist.
Transportation made easy
If your priority is comfort, there are special taxis authorized to work at the Sambódromo. They have a window sticker that allows them to drop you off at the entrance to your sector. You can call them ahead, make the arrangements to be picked up at your convenience.
Whenever you are ready to leave, they are stationed inside the Sambodromo, There is a service alley between Sectors 9 and 11. They charge a fixed rate to your destination, tip at your own discretion, and they will drop you off at the door of your hotel or apartment. The price is a bit higher than regular taxis.
We do not have sports Mercedes' for taxis in Rio, but they are all yellow in color so they are easy to spot. Regular taxis have a more limited access to the Sambódromo, so they can drop you very near yet not at the door to your sector. Some drivers are not fully familiar with locations of sectors - really.
On your way out make sure that there are enough taxis, and do not venture outside trying to find one. If you do not know your way around you may get frustrated. And you will have to compete with other people looking for a ride. And there is also the safety issue. Inside the Sambódromo it is not an issue!
Tour operators often take their clients in buses, and sometimes they can accommodate extra passengers. Their representatives are easy to find at the promenade of the Sambódromo. These authorized buses are conveniently parked next to Sector 7 with easy and safe access.
There is usually a gethering spot where they will pick you up and drop you off. Some companies offer return buses every hour, others have a fixed time. Shop around and double-check if your tickets include transportation. In most cases if you buy from a tour operator it is part of the package.
The subway is the cheapest way to go, and you do not have to buy your pass ahead. The station where you get off depends on whether you are going to the odd or the even side. There are many people in costumes going to the parade, but following them will not work. They may be going to the Concentration.
So, our suggestion: go by subway if you know your way around. Or if you are going with a group that can help you with orientation. Be street smart while you are walking outside the Sambódromo. It is a party, there's a family atmosphere, but pickpockets may try to take advantage of people who look too distracted.
Sambódromo Etiquette and practical details
It's very safe inside the Sambódromo You are welcome to bring your camera or camcorder. Everybody does, or uses their smart phones. Before taking pictures of anyone it is polite to ask for permission. If you do not speak the language, a smile and a thumbs up will do the trick.
You may bring along two food items and one drink (can or plastic bottle). There are plenty of refreshment stands inside, though, so don't bother bringing the extra weight. If you are at the arquibancadas, some of your neighbors may have delicious home-made sandwiches or appetizers. Make friends!
Each component of a samba school is a star playing a role in our tropical opera. Do not be judgemental or assume anyone has low morals just because they look ravishing in a costume. Respect is essential.
People in the audience love their samba schools, sing, dance and cheer. Few remain seated. When the Velha Guarda or the Baianas pass by people cheer. If this does not happen components may think they are doing a poor job! It's expected. So do not harass anyone by trying to force them to behave according to your personal standards. You are simply a welcome guest.
Some of our posts about Samb�dromo
Parties and Events in Rio Tonight